French sound artist and visual artist Stephan Crasneanscki, born in 1969, has been producing a number of works at the confluence of art and soundscape, anthropology, documentary and electronic music since 2000. Joined in 2008 by Italian Simone Merli, the two artists now work under the name of Soundwalk Collective, alongside a host of other personalities from the worlds of music and cinema, including Patti Smith, Nan Goldin and Charlotte Gainsbourg, who join them in projects that take the form of albums, sound walks, film or stage soundtracks, installations or audiovisual concerts.
Through compositions built around a rich dialogue between spoken voice, archives and field recordings made in the four corners of the globe, from the Black Sea to the Saudi Arabian desert, via the streets of New York or the gypsy ghettos of Eastern Europe, the Soundwalk Collective 's often poignant pieces combine themes linked to questions of travel, nomadism and territory, music and the places it inhabits, trance and faith, and the memory of human beings, whether artists (Jean-Luc Godard, Nico, Gainsbourg), writers or poets (René Daumal, Artaud, Rimbaud), mythological figures (Ulysses, Medea) or victims of 20th-century barbarism.
Recent works include the soundtrack to Laura Poitras' documentary All the Beauty and the Bloodshed; the Evidence installation, conceived with Patti Smith and recently presented at the Centre George Pompidou; Lovotic, in which the voices of Charlotte Gainsbourg, Lyra Pramuk and Willem Dafoe intersect, based on texts by Paul B. Preciado. Preciado and, finally, Correspondances, a tour with Patti Smith that will give rise to a new album in autumn 2023.
Interview with Stephan Crasneanscki, conducted in June 2023 in Ibiza, by Jean-Yves Leloup.
Selected excerpts: 
- Lovotic, with Charlotte Gainsbourg, Willem Dafoe and Atom™ (2022)
- Ground Zero Soundwalk with Paul Auster (2011)
"Through the act of recording, I've learned to be present, to adhere to a reality, to be alive, aware of the moment."
- Sulina, from the album and book Medea (2012)
"Sound possesses an evocative power, a capacity to make people feel, to awaken memories and dead souls; it is the locus of an invisible world."
- Killer Road with Jessie Paris Smith and Patti Smith ( 2016)
Soundwalk Collective - Killer Road [Live] - Featuring Patti Smith & Jesse Paris Smith from Soundwalk Collective on Vimeo.
- Song Of The Highest Towerwith Patti Smith, from the album Mummer Love (2019)
"Patti Smith has the ability to penetrate a soundscape and reveal it through words, voice."
- Dubăsari, excerpt from Bessarabia Ghost Tapes (2010) and the Transmissions box set (2017)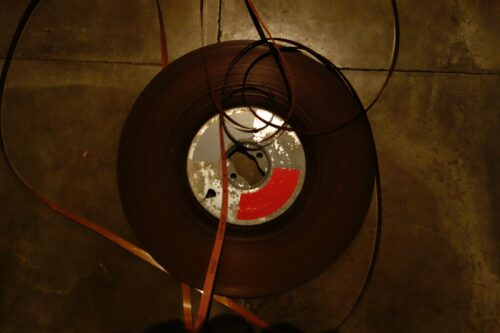 Photos © Soundwalk Collective