A day-by-day account of half a festival with the appearance of a transition. It is a question of facts and sound gestures, hidden or revealed, of intense and renewed energies.
Companions on the road
Strangely enough, it was the very first time I went to the CCAM, Centre Culture André Malraux in Vandoeuvre-lès-Nancy, and to this festival whose programming I have been following for over twenty years. It was about time. Was it too late? Too late in any case to see, this year, the performance of Fanny de Chaillé and Sarah Murcia around Lou Reed 's album Transformer - Transformé, which seems to have won all the votes - or Erwan Keravec's Sonneurs, the meeting between Mark Fell and Will Guthrie or that between Wilfried Wendling and Hélène Breschand.

But what a pleasure it is to jump off the train and find oneself immersed in the shadow theatre and machines of Pierre Bastien (26/05). For more than three decades now, the French musician, who divides his time between the Netherlands and Spain, has been perfecting an aesthetic universe that belongs to him alone, a world of instruments that he invents and assembles himself on the basis of Meccano and small engines, machine-like and fragile, modest and demiurgic. Although in the past it could take on spectacular proportions, his "Mecanium" is now limited to a derrick-shaped structure to which he adds small mechanisms and other accessories, musical prostheses or not, bows or rubber bands. A music box whose mesmerizing loops - an effect enhanced by two small lamps that project their multiplied shadows on the wall - form small, clattering, miniature symphonies that become concertos when he grabs his trumpet - itself subject to many original and zany treatments. Much has been written about Pierre Bastien's music, about his art of marrying the raw and the learned. On Thursday 26 May, this music, which at times evokes an aquatic fanfare or the orchestra of a phantom circus, seemed to me to be shrouded in great nostalgia, and reminded me of that of the late Philip Jeck - who also excelled in extracting very profound moments of music from an apparently minimalist device (one or two record players, a small keyboard), with the help of a mixing desk and a few effects.
Pierre Bastien, who collaborated with Jac Berrocal and Pascal Comelade in his early days, is one of the regulars at Musique Action, one of those artists with whom the festival has always had a natural relationship. This is also the case with Guigou Chenevierwho was back the next day in a duet with the guitarist Gilles Laval (27/05). By means of an amplified plate and (too?) many accessories, the percussionist delivers a series of short sequences sometimes very seductive (notably when, towards the end, they venture towards ambiences sometimes close to no-wave), but in the long run a bit demonstrative and systematic: each piece exploits a new accessory and a new guitar technique, and this search for the unheard of sometimes seems to take precedence over the musical speech. The whole thing is nonetheless very spectacular, not so much because of this heterodox instrumentarium as because of the gestures it authorises and provokes - as much as Laval remains stoic and calm, Chevenier seems nervous, possessed, grabbing his tools with sudden movements that evoke those of a painter brushing his canvas with large strokes...
There were also a lot of gestures in the duo ofeRikm and Jean-Philippe Gross, other fellow travellers of Musique Action, gathered under the alias Ursatz (26/05). Commanding various machines, they attack head on with a very aggressive and noisy set, which at least has the merit of breaking with the usual crescendo/decrescendo scheme. This rollercoaster is quite fascinating to observe (one wonders who produces what), and to listen to, because of the back and forth between sound abstraction (with some electronic blasts and other beautiful "concrete" sounds, reinforced by the spatialization) and the narrative temptation: It is however when the latter takes over - with the fleeting appearance of field-recordings (birdsong, water rustling), almost pulsating rhythms, almost melodic layers - that the music produces its most beautiful effect and manages to really move.
Also a regular at the festival and a key figure in the experimental/improvised scene that constitutes its historical channel, the singer and clarinettist Isabelle Duthoit had received me a few minutes earlier in the dressing room that she shared with the cartoonist Jean-Marc Troubet, alias TroubsFor 15 minutes, the duo received one spectator at a time to draw his "sung portrait", he with his brushes, she with her natural voice. A voice about which I have already written extensively elsewhere, and to which I will return below.
The last of the historical figures to be discussed here, Jérôme Noetinger delivered at the close of this 38th edition, with Anthony Laguerre Montage is a sound piece which, as its title indicates, is based on sound recordings made during the assembly of a show presented a few months earlier at the CCAM. From this sound material (the voices of the technicians, the shock of the risers and other metal tubes) that they have gathered and reassembled, the two musicians have produced a piece of cinema for the ear that they broadcast from the control room, on an empty stage, populated only by loudspeakers of varying dimensions, and animated by rare variations of lights and other curtain movements. The contemplation of this fascinating (non-)set plays a part in the tenacious charm that emanates from this composition, which is both poetic and documentary, revealing the backstage of creation, and bringing to the fore its hidden but indispensable "sides"...
Facts and figures
This dialectic of the occult and the unveiling, of the fact and the sound gesture, of presence and absence, is at the heart of the MA project presented by the Oxke Fixu duo, formed by the clarinettist Xavière Fertin and the percussionist Camille Emaille (28/05). The latter, an incredible musician whom I had seen 10 days earlier in Bordeaux accompanying the magnificent and delirious Urs Graf Consort, was also the subject of a previous article, again thanks to the Einstein On The Beach association. And I was very curious to discover this creation, the day after her touching "sound meeting" with Guillaume Kosmicki, during which she had notably come back on her little affinity with the outdated habits and customs of this contemporary music milieu from which she comes - and of these ensembles where, before the performance of such a piece of Xenakis, "the conductor shakes the hand of the first violin while it is the percussionist who drives the whole orchestra"!
A hybrid project, between installation and performance, MA - a term which, in Japanese culture, designates "all the subjective variations of emptiness, interval, duration, distance" (I quote from the programme) - is apprehended in the dark, a total, impenetrable obscurity through which the spectator is guided to his seat. This darkness is conducive to leaving the ear free to appreciate, without being guided by the eye which allows one to assign a particular gesture to a particular sound, the nature of the sounds which are offered to it. An ambivalent, ambiguous nature, where timbres mingle and merge: is it percussion (a gong or a bowl rubbed by a bow?) or the clarinet, that continuous sound that slowly begins to spread out from the silence? Is it percussion or clarinet (a clarinet blowing on a 'prepared' cymbal?), that rustling sound that responds from the other side of the room? It is only gradually that we come to understand the configuration of the room, with the audience forming a circle around a central space occupied by clay sculptures placed on pedestals, works by Aurore Emaille, which are intermittently illuminated by a light; that we understand that the two young musicians are standing behind us, and that all around us are gongs and other instruments on which transducers are fixed, allowing them to vibrate at a distance - the clarinettist becoming a percussionist, and vice versa. Largely silent but ending in the metallic clang of gongs struck with crotales, MA unfolds like a haunting ceremony, a timeless ritual that overwhelms our senses and perception.
The day before, the same questions had already been suggested to us by Phase, a performance-installation conceived by David Merloin which a bass guitar placed on a stand, like a pedal steel or a keyboard, and violently illuminated by flashes of red or white light, seems to play alone. It is in fact looped on itself via a computer system that reprocesses live the sounds and vibrations of the instrument, which the instrumentalist sometimes impels, sometimes observes, sitting in a corner of the room. An electrifying performance, with sometimes very rock-like sounds, from which one comes away with a question: what happens to improvisation when the instrument seems to have an autonomous personality and to escape its creator?
Another new face that appeared this year in the Musique Action constellation, Melaine DalibertGuillaume Dalibert, pianist and composer based in Rennes, where he also teaches at the Conservatory and presides over the excellent festival Autres Mesures, was given carte blanche for his concert at the MJC Lillebonne (28/05): he took advantage of it to play short pieces entrusted to him by musician friends - Sylvain Chauveau, Stéphane Garin (two of the founders of the Ensemble 0) and Mocke -, before performing a miscellany of new compositions and excerpts of Shimmeringthe record just released by the Nancy label Ici d'Ailleurs, of which Guillaume Kosmicki has already said in Hemisphere Sound Guillaume Kosmicki has already spoken highly of it.
In contrast to the broad proposals of the algorithmic compositions with which he has made a name for himself, these are short pieces that the author describes as "instinctive", and which sound like sketches, miniatures consisting of the repetition of chord sequences or simple melodic motifs that seem to have been snatched from time, like those musical ideas that arise from silence and that we take pleasure in repeating before letting them return to it... Heir to the multiple currents of American minimalism, from Philip Glass to Harold Budd or Peter Garland, Melaine Dalibert has not finished tracing his path in our ears.
The previous day at the same venue, the concert given by the Italian Dario Calderone , on five-string double bass, took on a special dimension in relation to David Merlo's proposal. He played Voyage that never ends, a piece handed down by his master Stefano ScodanibbioHe played Voyage that never ends, a piece passed on by his master, a great Italian double bass player who died just ten years ago, a friend of Giacinto Scelsi and Terry Riley and another fellow traveller with Musique Action. In this case, it was a real hand-to-hand encounter between the musician and his instrument that we were able to witness during this "journey" which, aptly named, took us through a wide variety of states and climates: first a long crescendo, a rapid and pulsating ride from the low register to the high register, where the strings, sometimes rubbed, sometimes struck, gradually let out harmonics and resonances that seem to multiply it, giving rise to a quasi-polyphony; then a passage in pizzicati where the musician uses all the percussive potentialities of his bow to give life to unheard-of sounds; a third part where the bow, rubbing the strings this time, produces a grain that comes close to saturation, before returning to the rhythmic side with which the concert had begun. A thrilling journey beyond the usual, from which the performer emerges as if dazed, breathless - and the listener with him.
Energy debauchery
In fact, this edition of Musique Action was full of unique energies. The very 'rock' energy of the trio formed by Isabelle Duthoit, the drummer Steve Heather and the guitarist Andy Moor together for the first time (27/10). I must admit I'm always impressed by the fabulous sound that the latter, with the help of a single pedal, manages to get out of his instrument: dense, fleshy, precise, sometimes powerfully low, sometimes metallic and sharp, it blends ideally with Steve Heather's playing, which is also full of contrasts and forms the ideal counterpoint. Diving like a siren into this magma of sound, Isabelle Duthoit, sometimes on clarinet, sometimes on voice, imposes a magnetic presence, sometimes reminding me of Blixa Bargeld (Einstürzende Neubauten) or Diamanda Galas. An electrifying concert, which one would have liked to attend standing up in a furious pit.
On the contrary, it is a very zen energy that emanates from the piece Femenine by the American Julius Eastman (26/10), a composer who died prematurely (in 1990, at the age of 50) at the end of a chaotic life, and whose work is just beginning to emerge from oblivion. A live recording was the only trace of Femenine (1974). The percussionist Stéphane Garin (fromEnsemble 0) and saxophonist Julien Pontvianne (from Aum Grand Ensemble) have joined forces to produce this transcription for twelve musicians, recorded last year for the Sub Rosa label. For almost an hour, this long repetitive piece, inflexibly carried by a rhythm of bells and a haunting vibraphone motif, takes on its full dimension on stage. It is indeed a bewitching spectacle that is played out between the different music stands (including Ellen Giacone's voice), the melody seeming to move from one to the other to immerse the listener in a bath of almost amniotic sounds. Always the same and at the same time always changing, this music plunges the listener into a meditative trance that one cannot say whether it lasted 10 minutes or 10 hours.
A similar feeling was given by Slow Time Low Freqs byElsa Biston (28/10), another piece that (like Oxxe Fixu's MA, like David Merlo's Phase ) can be performed as well as installed. Sitting in the middle of the audience, invited to relax on cushions, the composer controls a set of transducers connected to different objects (notably large metal drums) and instruments (various percussion instruments, mainly drums and gongs) placed on stands all around the room, into which she diffuses frequencies and sounds (including snatches of Mendelssohn!) that make them vibrate. The result is a piece which, behind the appearance of a long drone, on the contrary, provides a great subtlety of contrasts and variations. Beyond the spectacular and astonishing aspect of its set-up, Slow Time Low Freqs reveals above all a remarkably fine sense of dramaturgy that gives the feeling of slowing down time, whose beat seems to follow that of the frequencies that rub and respond to each other in our ears.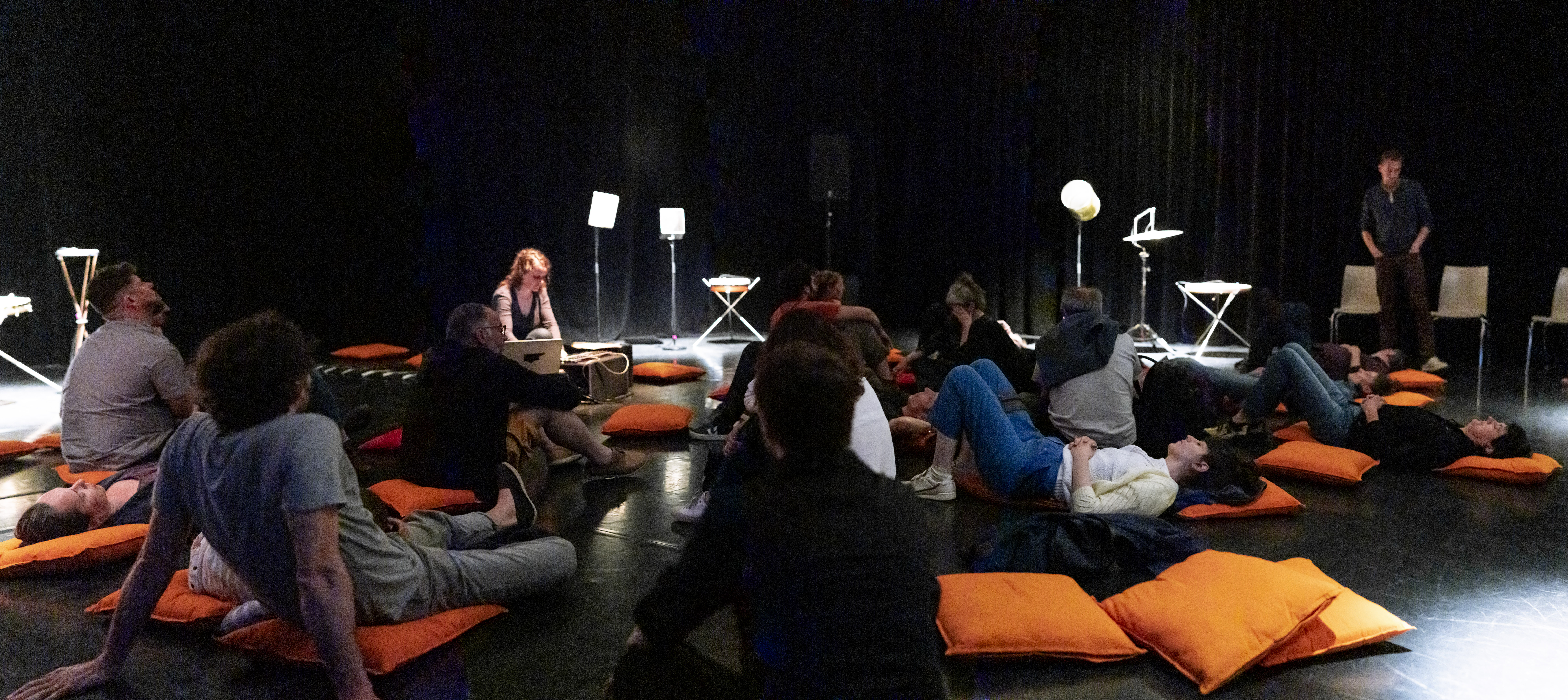 Such a dive into oneself was an ideal preparation for one of the expected highlights of this edition: the presentation, by Louis-Michel Marion (viola da gamba) and Carol Robinson (viola da gamba) and (birbyne, a Lithuanian instrument related to the clarinet) of two parts of Eliane Radigue's monumental 'in progress' cycle Occam Ocean, including a creation for solo viola da gamba. Eliane Radigue's music, static, sprawling and yet desperately alive and organic, is like a breath: the listener's breathing seems to follow almost naturally the minute fluctuations of the sound material to which the musicians, with patient and demanding work, manage to give substance. These two pieces, which I had not yet heard, did not break the 'rule': rather brief, they nevertheless allow for subtle stylistic evolutions, notably in the playing of the viola da gamba which, in both pieces, no longer confines itself to a single note but explores the entire range, starting in the lower register and gradually moving upwards, before returning to its starting point. As always, one emerges happy, soothed, lost and at the same time centred, from listening to this music, the experience of which is always powerfully beneficial.
David Sanson
Photos Pierre Bastien © Barbara Donaubauer
Photos Festival © Christophe Urbain