Artiste sonore et plasticien français né en 1969, Stephan Crasneanscki est depuis 2000 l'auteur de nombreuses pièces au confluent de l'art et du paysage sonore, de l'anthropologie, du documentaire et de la musique électronique. Rejoint en 2008 par l'Italien Simone Merli, les deux artistes œuvrent désormais sous le nom de Soundwalk Collective, aux côtés de nombreux autres personnalités venues de la musique ou du cinéma, parmi lesquels Patti Smith, Nan Goldin ou Charlotte Gainsbourg qui les rejoignent au fil de projets qui prennent la forme d'albums, de balades sonores, de bandes originales de films ou de spectacles, d'installations ou de concerts audiovisuels.
Au travers de compositions construites autour d'un riche dialogue entre voix parlée, archives et enregistrements de terrain réalisés aux quatre coins du monde, de la Mer Noire au désert de l'Arabie Saoudite en passant par les rues de New York ou les ghettos gitans d'Europe de l'est, les pièces souvent poignantes du Soundwalk Collective brassent des thèmes liés aux questions du voyage, du nomadisme et du territoire, de la musique et des lieux qui l'abritent, de la transe et de la foi et enfin de la mémoire des êtres, qu'ils soient artistes (Jean-Luc Godard, Nico, Gainsbourg), écrivains ou poètes (René Daumal, Artaud, Rimbaud), figures mythologiques (Ulysse, Médée) ou victimes de la barbarie du XXe siècle.
Parmi leurs œuvres récentes, citons la bande originale du documentaire All the Beauty and the Bloodshed de Laura Poitras ; l'installation Evidence, conçue avec Patti Smith, présentée récemment au Centre George Pompidou ; Lovotic dans lequel se croisent les voix de Charlotte Gainsbourg, Lyra Pramuk et Willem Dafoe d'après des textes de Paul B. Preciado et enfin, Correspondances, une tournée réalisée en compagnie de Patti Smith qui donnera naissance à un nouvel album au cours de la rentrée 2023.
Entretien avec Stephan Crasneanscki, réalisé en juin 2023 à Ibiza, par Jean-Yves Leloup.
Morceaux choisis :
– Lovotic, avec Charlotte Gainsbourg, Willem Dafoe et Atom™ (2022)
– Ground Zero Soundwalk avec Paul Auster (2011)
"À travers l'acte d'enregistrer, j'ai appris à être présent, à adhérer à une réalité, à être en vie, conscient du moment."
– Sulina, extrait de l'album et livre Medea (2012)
"Le son possède une puissance évocatrice, une capacité à faire ressentir, à réveiller les souvenirs et les âmes mortes, c'est le lieu d'un monde invisible."
– Killer Road avec Jessie Paris Smith et Patti Smith ( 2016)
Soundwalk Collective – Killer Road [Live] – Featuring Patti Smith & Jesse Paris Smith from Soundwalk Collective on Vimeo.
– Song Of The Highest Tower avec Patti Smith, extrait de l'album Mummer Love (2019)
"Patti Smith a la capacité de pénétrer un paysage sonore et de le révéler à travers les mots, la voix."
– Dubăsari, extrait de la pièce Bessarabia Ghost Tapes (2010) et du coffret Transmissions (2017)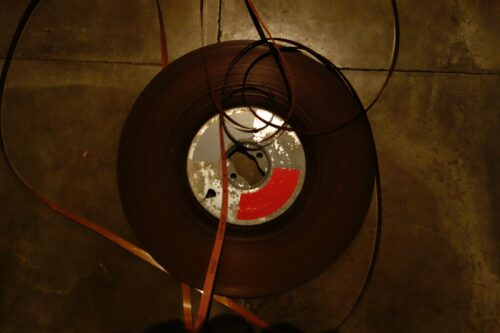 Photos © Soundwalk Collective