When I listen to Marco Mezquida (Menorca, 1987), I think of a kaleidoscope. When his music plays, I look into the tube and contemplate amazing figures that follow one another with absolute naturalness. This is the way this young pianist with a busy career is creating: with a dazzling naturalness. He combines popular and learned music, crosses jazz or free improvisation with the ease of a centaur, or dives into flamenco without any self-consciousness. The transversality unifies him
Alicia Award 2021, BMW Welt Jazz Award in Munich 2022, City of Barcelona Award 2019 or Musician of the Year Award from the Association of Jazz Musicians, Marco Mezquida continues his meteoric career. We spoke with him just before a new challenge: the duo between man and machine, Mezquida and an artificial intelligence system, engaging in a conversation as part of NEO Ars in the auditorium of the CosmoCaixa Science Museum.
As a child, music was a game for you. Today, after all this time, is it still a game?
Yes, it still is, balanced with the fact that now music is also my profession. But when I was a child, yes, music was a game, as was knowledge and research. In fact, as I've grown as a performer and composer, I've reinforced that tendency!
Was the transition from passion to profession difficult?
In my case, it was a completely organic process, as I have never had any other profession in my life. Even today, my spirit as a musician is present at every concert. 
What do you remember about the student Marco Mezquida?
I was always a good student. I took the studies very seriously, with commitment and perseverance. I had great teachers and the academic training was a pleasure for me. At the same time, however, I tried to be a self-taught musician with a rebellious side that allowed me to challenge a disciplined learning system. I would say that I was a good student, but with a great deal of self-taughtness, because I was always more interested in the renaissance spirit of a Leonardo than in the pursuit of specialization; and the more the years went by, the more I needed to get away from a regulated, regulated, concrete education.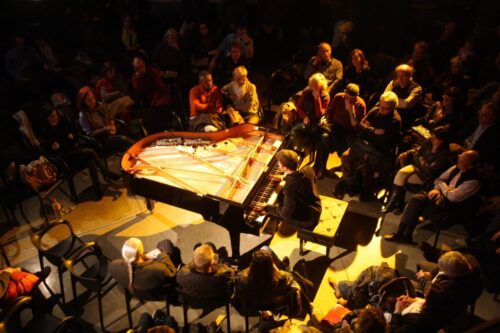 And what did you learn outside of this more formal training?
I learned about the bohemian life, the concerts, the daily work and study at home, playing with hundreds of musicians in many projects. That's where the spark lies. I feel closer to the street than the academy. In fact, I learned the most important things outside of high school, conservatory and university, which always likes to brag about its musicians. It's true that in higher education we spent four years of our lives with great teachers, but we didn't get into the academy very well and we didn't come out feeling like we were the best. 
Your career is very long, it is impossible to summarize it. In this variety of registers, I would say that the versatility is one of your virtues. But are you the same Marco Mezquida in all your facets, or different Marcos Mezquidas in each of them?
I tend to be the same in all facets, which does not mean that I express the same message in all situations. It's true that versatility is one of the paradigms I've developed over the past decade; the ability to adapt to different situations that require specific preparation. My training is solid, and allows me to enter and flirt with flamenco alongside a great figure like Chicuelo; or, on the contrary, to create my own songs, which have nothing to do with flamenco; or to explore other sound worlds like that of Silvia Perez Cruz or Salvador Sobral, among others. But I consider myself more of an improviser.
What attracts you to improvisation?
Improvising is about creating on the fly, interacting, whatever you talk about. And it requires a lot of experience to be able to show yourself as you are. In improvisation, I am a recognizable Marco Mezquida, whether it's solo piano, with Silvia Perez Cruz or with Chicuelo, for better or for worse, trying to transmit a unity and coherence.
In the same identity?
Yes, in the sound. I want to believe it. The sound, the thread that I extract from the piano in different contexts. 
And if your sound was a color, what would it be?
Good question! I would say it's not monochrome, because I see sound energy as light. Maybe sometimes there are moments of a warm color and others of a cooler color. Anyway, for me, music is a sound mass, an energy, and the important thing is the work done to be able to transmit and express this energy. 
What is your way of composing?
I don't have a method, it comes from intuition. Sometimes a melody comes to my mind and I try to develop it; other times I start from a chord wheel, or I let my mind empty, or a random image emerges. There is no method, but a creative impulse. That's what we were talking about earlier about inspiration, that river of ideas that rushes in. The composition would consist in crystallizing some of these ideas coming from this immense river.
Tell me about your work.
My first two albums as a leader were ten years ago. I have been part of many bands as a jazz sideman, with the Marc Miralta Group, Gonzalo del Val, among others. But in 2013 I felt the need to combine these collaborations with the idea of developing my own repertoire, and I released My Friend Marko with my trio, as well as my first solo piano album, La Hora Fértil. This was the first step towards the development of a personal career. I can't forget my solo concert at the Palau de la Música in 2015, with which I wanted to get out of the exclusive jazz club scene in which I had been playing for years. And, of course, in 2017, when Silvia Perez Cruz called me for a duo album and tour, which gave me visibility. 
You recently became a father, has fatherhood brought something new to your music?
I don't know if I'm a better musician now that I'm a father, but I feel that everything grows in a huge love; it's very hippy, I know, but the emotion and the joy of having a child is the biggest thing I've ever felt in my life, and the music feeds on all this sensitivity that this stage transpires.
How was the collaboration with Silvia Perez Cruz?
We liked each other very much on stage, with a very special symbiosis. It was one of the best things that happened to me, because it was a dream to create music with her and I was lucky to spend years with her as a duo. Our tour in Japan materialized this similar way of approaching music.
How do you feel about the current situation?
The reality is that the cultural ecosystem is very limited and there is a lot of competition. Moreover, we are at the mercy of our fate in a society that does not support culture. Besides, the idea of creating a status to protect the artist is still in its infancy, because if there is no defense of the author yet, the only thing that is promoted is "every man for himself". I also believe that the "small culture", where I come from, that culture that mobilizes the neighborhoods and activates the small theaters, must be protected. This whole scene is very neglected. It is a complex reality, and the public must be aware of this fragility in order to awaken curiosity and activate the scene by its presence. It's easy to think that the concerts are there, but if the public doesn't take ownership of the more minority culture, there will only be the mass industry and the big two-week festivals, and the rest of the year there will be no culture. Without curiosity, there is only mass industry.
Last question: how was the duet between your piano and the artificial intelligence system?
It was a very interesting experiment, although by showing it, we are already committed to art and beauty. We worked with two scientists and focused on developing sound textures that were activated over a period of time based on the sound stimuli I was bringing to my piano. I would improvise and, based on the timbre and resources of the piano, the AI would sequence this information and develop textures to create a particular sound world. It was an exchange of inspirations!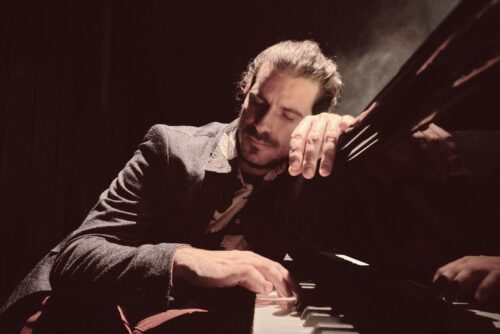 Interview by Txema Seglers
Photos © Mireia Miralles
Photos © Miquel Carol
Photos © Fundació La Caixa