A rock on a balancing act. Joëlle Léandre's improvised music offers a perfect alchemy between fragility and solidity: the ephemeral organization of only a few elements, almost nothing, combined with the know-how of this great lady of improvisation, her intense years of practice enamelled with hundreds, thousands of encounters, with an infinity of artists. Joëlle Léandre's career began in the 1970s. After graduating from the conservatory, armed with a first prize in double bass, she devoured everything, especially the most contemporary, participating in the Itinéraire and 2e2m ensembles at their creation. She was marked by the decisive discovery of free jazz. Joëlle Léandre is also a history of encounters with passionate musicians who mark out her path. To name a few: Barre Phillips, Dereck Bailey, Irene Schweitzer, Maggie Nicols, Steve Lacy, Carlos Zingaro, George Lewis, Pauline Oliveros, Giacinto Scelsi and John Cage. That's all there is to it!
Joëlle Léandre will be at the Musica festival in Strasbourg on September 26.
Interview by Guillaume Kosmicki
Selected excerpts :
- "Orange"(Trans 2, Intervalle Triton, 2015) with Joëlle Léandre & Serge Teyssot-Gay.
- Play As You Go (Trost, 2021, recorded July 17, 2014) with Joëlle Léandre, Pauline Oliveros & George Lewis
-Calès I", Joëlle Léandre in Souillac en Jazz, Live in Calès Church, ayler records, 2021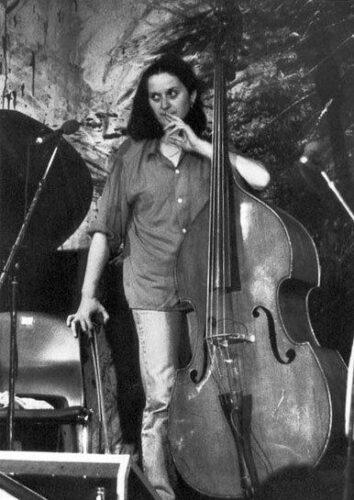 - "Flower No. 9"(Strings Garden, Fundacja Słuchaj!, 2018) with Joëlle Léandre & Théo Ceccaldi
- Giacinto Scelsi'sDeep Awakening with Joëlle Léandre as soloist(l'empreinte digitale, 2018, reissue 1990)
Photo © Lauren Deutsch
Photo © GR-DR
Photo © Kirill Polonsky