He crossed the 20th century like his music: on the tip of his toes, flirting with hidden silences and precious harmonies. Federico Mompou (or Frederic to the Catalans) is an atypical composer who stands outside all aesthetic schools. Less popular than Satie, with whom he shares certain aspects, Mompou has become the composer of sensitive music lovers and pianists keen to avoid chattering virtuosity. "Whoever can read and listen to silence will understand me.
A Barcelonian in Paris
Federico Mompou was a Catalan composer, of French descent on his mother's side. He was born in Barcelona in 1893 and died there in 1987 at the age of 94. One of his aunts taught him the rudiments of the piano; he recounts that his desire to compose came from listening to Gabriel Fauré 's Quintet for piano and strings in F, performed by the composer himself in April 1909 at Barcelona's Mozart Hall. In 1911, he composed Impresiones intimas, a masterstroke for a young man of 18. From the outset, Mompou was already himself: with his distinctive musical style, close to spontaneous improvisation. "Strangely enough, I never had the intention or the desire to compose. It happened when I heard a concert of works by Gabriel Fauré, who could have been Debussy or Ravel. They awakened a vocation in me. That was my first exposure to modern music, in 1909, when I was 16.
Enrique Granados recommended him to Gabriel Fauré, director of the Paris Conservatoire, to perfect his pianistic skills with Louis Diémer and Isidore Philipp, who were teachers there - as well as with his famous compatriot, the Spanish pianist Ricardo Viñes. He did not enter the Conservatoire - by choice - and perfected his skills with pianist Ferdinand Motte-Lacroix, but soon abandoned his ambition to become a professional pianist. His life oscillated between an assumed nonchalance and a comfortable laissez vivre. He composed for himself, simply out of vital necessity. "I've always protested when people call me a composer. I'm not a composer; I don't want to be a composer. I believe, quite simply, that I am music, music that I'm convinced I don't make myself, because I always have the feeling that it comes to me from outside.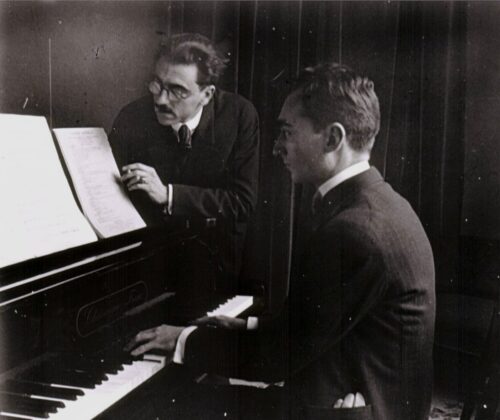 The period from the First World War to the 1930s was a productive one for Mompou, who published works for the piano (his catalog is essentially made up of works for the piano and numbers 200) such as his Suburbis (1917), Scènes d'enfants (1918), Cants mágics (1919) and the first four of his Cançós i dansas. For 20 years, he lived in Paris (with a few brief returns to Barcelona) and won the esteem of his peers; his friends and admirers included Villa-Lobos, Paul Valéry, Poulenc, Milhaud, Rubinstein, the Rothschilds and the critic Emile Vuillermoz.
During the 1930s, Mompou composed little. A frankly melancholy character, apathy invaded him and inspiration became discreet. " Music is written for the inexpressible; it must seem to emerge from the shadows in order to return to them. I'm obliged to find new paths; I don't think I can confine my music to one correct world." In 1941, Mompou fled the occupation in France and returned to Barcelona. At a piano competition, he was captivated by a candidate: Carmen Bravo, thirty years his junior. He married and began composing again, opening up a long period of creativity that lasted until 1979 - when health problems weakened him. He died at the age of 94 in 1987, having stopped composing for several years. Following the death of his widow in 2007, some 80 previously unpublished and unknown works were found in his home, all published by Editions musicales Boileau.
A musician apart
"I am in revolt against the excessive cerebralization of our age. Music must cease to be a laboratory product and acquire the lyrical and evocative qualities born of personal experience and meditation."
Mompou's music is definitely a musical heresy in the middle of the 20th century, an age of paradoxes, merciless aesthetic struggles and sonic experimentation of all kinds. During his lifetime as a composer, he was a contemporary not only of Stravinsky, but also of Boulez, Miles Davis and Philip Glass. But none of them had any influence on him; like some of the great composers (Chopin first), Mompou quickly found himself and hardly ever changed his language: he simply perfected it to the utmost. In his youth, however, he was influenced by the colors of Debussy, the melodic élan of Chopin and the purity of Satie. Not forgetting, of course, the immeasurable importance of Spanish folk music. "I am music, and the least composed music in the world.
"In my day, atonalism was just beginning, and I felt a bit isolated from this music. I felt a great fear of entering life; my family saw me as a cripple." You only have to open a music history book to realize how little impact Mompou had on the musical trends of his century. He is rarely quoted, and if he is, it's to tell of a musician who took a step aside and composed ageless music, alone in his corner." My music is my hands, like a sculptor with his hands in clay". Mompou composed at the piano, letting his hands roam over the keys and experimenting with certain rubbings, dissonant but always lyrical chords. He drew his inspiration from the world of childhood, when his grandfather's bell-foundry workshop made a deep impression on him. Introverted and shy, he would let the sound finish and listen until it died away, then try to reproduce this decrescendo on the piano. Mompou's music has no love of showmanship or gratuitous virtuosity, and no desire to impose itself. It simply is. In Jacques Trébouta's film, Federico Mompou (1893-1987) "L'Homme et sa Musique", we see Mompou strolling through a park, impassive amidst children running and shouting everywhere, speaking in French and recounting his life, also impassive.
His Música callada cycle (1951-1976) translates into French as "music that stays silent". In this music of silence, sound and silence are placed on the same level, perfectly complementing and responding to each other throughout this 28-piece cycle. This is the work of a mystic inspired by readings of St. John of the Cross's Cantique spirituel , his magnum opus in which he already speaks with the beyond - in which all sound seems merely evoked, hovered over and silenced in fine.
The heirs
Mompou had few imitators during his lifetime. He was both impervious to the music of his time, and his contemporaries were very grateful to him. Yet Mompou was a twentieth-century musician from a musical point of view: his harmonies are no longer those of Chopin or Debussy; they are more reminiscent of the last period of Fauré and often evoke the world of jazz. Jazzmen have taken to his music far more sincerely than contemporary composers.
The recently deceased jazz composer and pianist Mario Stantchev was one of the first in France to recognize Mompou's fundamental importance. He played him, listened to him and reworked him in his own way. Several of his works are directly inspired by Mompou's music; a version with saxophonist Lionel Martin of Impresiones intimas exists, but unfortunately was never recorded.
Another jazzman influenced by Momopou' s miniatures sadly passed away recently: Denis Badault , who in a recent composition subtly blends the composer's Prelude No. 8 with Valentine, a work by jazzman Fred Hersch ( Brad Mehldau's teacher). This exquisite mash-up proves that Mompou had the gentleness of Bill Evans, the musical intensity of Keith Jarrett and the ultra-developed harmonic sense of Fred Hersch.
The philosopher/musicologist Vladimir Jankélévitch saw in Mompou an equal of Debussy, Ravel or Albéniz. In his essay La présence lointaine (ed. Seuil) he writes: "What Mompou wants, in the search for sonic solitude, is to reach the intangible point where music has become the very voice of silence, where silence itself has become music." Jankélévitch was a boundless admirer of Música callada. Nor can we forget Mompou's two compatriots who also lifted Catalonia into the great musical history of the last century: Manuel Blancafort (1897 - 1987) and Xavier Montsalvatge i Bassols (1912 - 2002).
Blancafort was a close friend of Mompou who, like Mompou, was also deeply influenced by childhood memories that haunted him musically for the rest of his life: Blancafort's father, a technology enthusiast, made rollers for Pianola - his masterpiece El Parc d'attractions bears the mark: the mechanical side of this ritornello music. Blancafort's music has the conciseness of Mompou, a wounded lyricism always tinged with muted melancholy and, of course, tangy harmonies. Montsalvatge, for his part, composed Si, a Mompou in 1983, a few years before the Master's death, with whom he shares little taste for what the century of Boulez and Messiaen brought aesthetically and technically: " I've never been crazy about innovation, and I don't feel any affinity with avant-garde music, which I consider necessary but which only appeals to a minority" . Montsalvatge nevertheless tried his hand at serialism, atonality and polytonality alla Milhaud; but his sensitive Catalan heart never denied the languor of his native music.
Pianist Philippe Soler Rodriguez* tells us ...
I discovered Mompou's music in 1969 with my first piano teacher Gonçal Tintorer Latour at the Ecole Nationale de Musique de Tarbes (a few kilometers from his grandfather's Dencausse bell foundry... a coincidence?). My first musical shocks with this composer were his Scènes d'enfants and the first of his Cançons i danses.
What fascinates me in his universe is this unique piano sound that belongs to no other, this universe of bells, instruments that have so permeated his music! I love Mompou's questioning, suspenseful piano... Broadly speaking, this Catalan composer is a perfect fusion of the lyricism and melodic élan of Chopin and the colors and resonances of Debussy. There's something about imagining that little Mompou kid in his grandfather's workshop, watching the bells being made and tuned, and conceiving a lifelong musical universe.
This music has had a special place in my life as a pianist. I've worked on all these pieces and yet its music remains very difficult to interpret and share with others.
... his meeting with Mompou
In 1976, I attended the Paloma O'Shea piano competition, also known as the Santander Competition, and Mompou was on the jury. After the competition, I had the pleasure of meeting him in the company of his wife Carmen Bravo.
I played him Chopin's Polonaise , Debussy's La puerta del Vino and, of course, two of his pieces: Scène d'enfants and the 6th Cançons i danses. He immediately spoke to me about sonority, and suggested caressing the keyboard, letting it resonate. All without hitting the key. " My music is simple, just play it," he said. When you hear him play, he takes many liberties with his own indications; for example, he shifts his right and left hands, not in the manner of a romantic alla Cortot, but simply to emphasize resonance. It's all about resonance. And deep down, I understood it later, but this simplicity is natural. I've always worked on certain passages in different ways, without really choosing and letting myself be invaded by the present, which allows me to rediscover that famous naturalness. There's obviously a jazz side to his music, with its carefully chosen, aesthetic harmonies. He was a really nice person, and above all very shy. He could stay in his robe all day for fear of seeing people.
He achieved what he wanted. To say as much as possible with as few notes as possible.
Out of time.
François Mardirossian
Among his great interpreters, I recommend the great Rosa Sabater, Arcadi Volodos of course, but also Stephen Hough and Alicia de Larrocha.
And for further reading, a few books:
- Federico Mompou (1893-1987) : À la recheche d'une musique perdue by Jérôme Bastianelli, ed. Actes Sud, 2021
- Piano music by Guy Sacre. Robert. Laffont, Paris 1998
And some films:
- Federico Mompou (1893-1987) " L'Homme et sa Musique " film by Jacques Trébouta:
- Interview with Montserrat Roig for Spanish television
*PhilippeSoler Rodriguez is a pianist and former teacher at the Conservatoire à rayonnement régional de Lyon, and a specialist in Mompou.