Ambitious, cross-genre local projects created just before the summer, the "electro-orchestral suite" Mulhouses and the "degendered micropéra" TRANSFoRMERS mark two new milestones in the singular journey of Jonathan Pontier, a composer driven by his passion for collective work and transmission. At the same time, they raise questions about the modalities of this type of creation in the post-Covid era, in an increasingly complex institutional context.
Portrait of the Composer as Composer
On his website, Jonathan Pontier's biography takes a poetic-facetious approach to the resources of his surname: "bridge-builder". Indeed, the composer has been building bridges ever since he burst onto the musical scene two decades ago. Almost by chance, one might be tempted to write, since it was late in high school that this child of the 9-3 (he grew up in Montfermeil), who had been force-fed rock and urban music, discovered contemporary music, and with it a "social ritual" for which he had not been "domesticated". Although he studied at the Ecole Nationale de Musique et de Danse de Montreuil and then at the Conservatoire National Supérieur de Musique de Paris (where he won a prize for composition and new technologies), and is also a pianist, guitarist and computer-aided music (CAM) virtuoso, he continues to describe himself as "mainly self-taught", and takes great pleasure in thwarting academisms and categories to better link the different worlds that constitute him. In 2007 - the year he won the prestigious Prix Italia - his first collaboration with the Ensemble Intercontemporain was entitled (De)fragmentations on Bob Dylan ; and this summer, it was Frank Zappa's Grand Wazoo and Waka Jawaka that he revisited (after reading them by ear!) in the company of a polymorphous ensemble of instrumentalists, Mega Wajooka - a project which, programmers beware, is just waiting to go on tour. From theater (with director Jean Boillot) to musical storytelling for children(Dansekinou, 2014), via dance(GayaMix, 2023), he has explored (and exploded) a multitude of universes with an almost Dadaist faconde and communicative energy. " There can be no creation without transmission", he likes to repeat - he was already saying this to Suzanne Gervais here two years ago; and there can be no transmission without creation either: at the CRR d'Aubervilliers-La- Courneuve, where he has been teaching composition since 2018, he has created a young creation collective: "Transmitting knowledge without renewing it, without questioning it profoundly, doesn't make sense either."
In the end, it's this collective - rather than simply "participatory" - dimension that lies at the heart of Jonathan Pontier's work: "I've always thought it more interesting to do things together, or to 'make things happen', than to follow the classic pattern: I write - I've finished writing - I do things with the musicians. I've always believed that you have to be able to 'make your audience'. In the age of the Internet, which has made it possible to develop a culture of collaboration, what is truly "avant-garde" in terms of writing is perhaps precisely working together to make the work. What helps create a shared culture of the work is making it together, rather than assigning others to the position of 'audience'. It's not at all a question of denigrating my work, on the contrary, but rather of asking what I can concretely contribute to a social body - a social body that has been defined as 'public'. From then on, the hermeticism that is often associated with contemporary creation disappears of its own accord." This generosity, curiosity and natural openness to others is one of the most striking and endearing characteristics of Jonathan Pontier's music: there's no longer any need to "tick boxes" ("(socio-)cultural action", "participation", "artistic education", "pedagogical project", so many catchwords that the artist himself says he "doesn't recognize") when art is, as with him, so viscerally tied to a cultural dimension. Regardless of the zany adjectives he uses ("electro-troubadour", "passer d'inventions"," organizer of intuitions"," citoyen du son"," artisan symphoniste"," homme-orchestre"), it could be said that Jonathan Pontier is also a "composer": I'm not talking here about the machine used to validate transport tickets, but about the large receptacle where natural waste is fermented to recover elements rich in minerals and organic matter, and use them to fertilize the soil. For this artist, nourished by a thousand and one heterogeneous references, the ferment is other people, without exclusion. 
Two more atypical projects have come to the fore in recent months.
Mulhouse music
First there was the Mulhouses project - with an "S", sic: "The S of the plural, of diversity, of multitude! The desire both to create unity - the city, both this city and all cities, the city, the factory of the citizen - and to say that there isn't one point, one center, one city: there are always a thousand realities..." Premiered on June 9, this five-movement "electro-orchestral suite", written for a symphony orchestra, six electro musicians and a choir of over 250 children (!) from the city's conservatory and schools, was the culmination of five years of patient work that the pandemic failed to stop. The project originated with a citizen's commission placed in 2018 as part of the Fondation de France's "Nouveaux commanditaires" program, enabling "citizens confronted with social or development issues in a given region to call on art" - in this case, five Mulhousiens eager to give their city a different image.
In this process, the use of electronics was an artistic choice from the outset... and an economic necessity: "This almost 'vintage' electro side - I often quote this Stevie Wonder record that I've gradually come to cherish, Journey Though The Secret Life of Plants, with sounds that are very avant-garde in terms of electronic lutherie and at the same time very rough, very dated - seemed to me to be a good translation of the city. Mulhouse, like Porto for example, is a bit like that: a kind of countryside almost city, or a world-city with a past glory, with a lot of memories, particularly immigrant memories... As soon as you arrive in this city, you feel this patina. Mulhouse is a bit like the forgotten daughter of history, quite the opposite of gleaming Strasbourg... But there was another reason for choosing electronics: at the start, we simply had no production tools, no ensemble, no musicians...".
It was only later that the Orchestre symphonique de Mulhouse came on board, and the project gradually took on its monumental final form , driven by the enthusiasm of a highly committed artistic team under the leadership of conductor Dylan Corley: "It's been pretty fantastic, and the creation has gone divinely well. I have to say that I didn't expect the orchestra to be so committed to the music or to the cross-disciplinary nature of the project. From the very first session, they were on top form, especially rhythmically. And it's a real novelty compared to what it might have been a few years ago: the musicians are really in demand for this type of somewhat 'crossover' project. It has to be said that Dylan Corley, who plays with the Ensemble Intercontemporain as well as MC Solaar, isn't afraid of the 'click', the technique, the amplification...". The musical result, almost "pop" in its author's own words, is a fresco in which frenzied accelerations stand side by side with dilated moments in which the children's voices seem to reproduce delay effects... right up to this "hymn" which, "sung by kids, almost becomes a variété bluette. But that's something I'm completely comfortable with, even as a 'contemporary composer'." In its stylistic syncretism and its desire to bring people together, Mulhouses recalls Le Geste et la parole, which Jonathan Pontier created in 2007 in his home town of Clichy-sous-Bois: another abundant, heterodox composition, bringing together seventy-five musicians and amateur choristers from Seine-Saint-Denis, and mixing percussion, electronic music and voice, djembé, cavalry drum, Brazilian sourdos and darbukas, MAO and slam...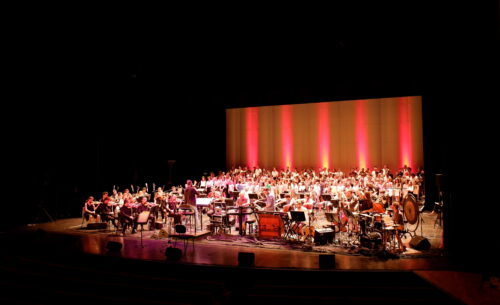 Transformist opera
It was a meeting with another intrepid young conductor with "great interpersonal skills" - Léo Margue, artistic director of the 2e2m ensemble since 2022 - that led to the success of the TRANSFoRMERS project, premiered on May 31 : a collective musical and visual fresco - the composer describes it as a "degendered micropéra" - created during a residency involving schoolchildren and residents of Champigny-sur-Marne, where 2e2m is based.
Originally, Jonathan Pontier had a dream of an opera, inspired by the figures of Sabbataï Tsevi (the "false messiah" who, in the 17th century, provoked a profound schism within Judaism) and Chelsea Manning (the whistle-blower who, in the wake of her conviction in 2013, began her transition and change of gender identity): two figures inviting us to reflect on the notion of "transformation". It was the idea of "transformation" that mainly remained from this starting point, TRANSFoRMERS becoming a way of collectively questioning the mutations of the city and the world. And to carry out a long-term project with the children which, in the opinion of all concerned (starting with their parents), produced astonishing results. "We first spent several months experimenting with the three classes at Irène Joliot-Curie elementary school, using vocal play, movement and body percussion. Trying out sound situations, testing things out before writing them down, validating hypotheses - all the things we call 'mise en jeu' in contemporary theater - is something I love doing, and which I don't think is developed enough in so-called 'contemporary' music. Another interesting, albeit difficult, aspect was working on memorization, on what children can retain, and on ways of creating a score that is almost entirely gestural. The score combines purely choral forms with somewhat open-ended elements, with a system of 'cards' referring either to sound objects or to elements of the score that have been learned, which are grafted onto the instrumental parts, which are much more written and locked in place...".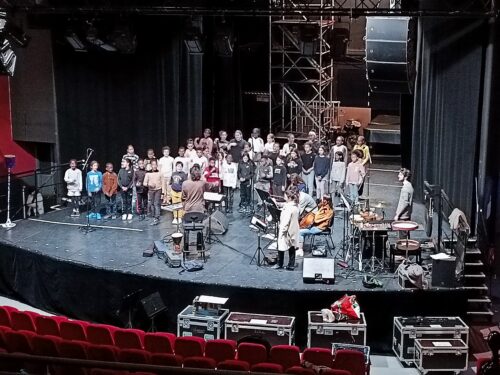 Accompanied by a sonographic and video device (designed with the help of La Muse en Circuit and video artist Olivier Garouste), percussion and a string trio, soprano Marie Soubestre embodies all the characters, while the choir, in the manner of an ancient chorus, carries the message of transformation. " It's been a long time since I've seen children so involved in a project, with such an ability to memorize texts, and a curiosity and quality of listening and gesture that are truly impressive." It's an experiment that Jonathan Pontier would very much like to continue and transform elsewhere (why not in Aix-en-Provence, for example?), once the video recording of the premiere has been finalized.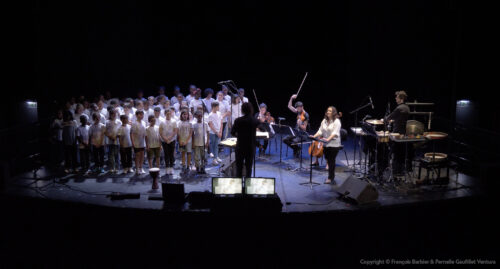 Short circuits and short routes
While everything went perfectly well with the children, it was the adults who found the experience frustrating in some respects. In particular, the French Ministry of Education was extremely cautious and interventionist, to the point of forcing the composer to rewrite a large part of his libretto and expunge all references likely to "offend sensibilities", as the saying goes. In other words, "there are things that have become almost impossible to do within the framework of national education. In principle, it's a real problem". Similarly, on the subject of Mulhouses, Jonathan Pontier laments the many obstacles he has had to face in terms of production and administration." It has to be said, not everything is rosy! That just because you manage to get things done doesn't mean you feel they're being done sensibly at every level of production! In a nutshell, these two projects, despite the fact that they were carried out - and carried out well - seem to me to demonstrate the ever-increasing complexity, for an artist, of 'producing' in this post-Covid context. And this raises a number of questions: what place does the artist really have, in the end, in this type of project? How much room for manoeuvre is left to him, in his craft and in his ability to move us? Aren't we falling into a productivity trap that's a little blinded by an obsession with ticking cultural policy boxes? It's not a criticism of the system as such, but rather a questioning of the place that the artist (whether feminine or masculine, singular or plural) must find in this increasingly complex institutional mesh... Paradoxically, at a time when artistic projects with a 'social' vocation have never been so much promoted, a shift seems to me to be taking place in the very notion of what makes a work of art: it's a very interesting thing, but I don't think we're giving ourselves the right tools to think about it...".
Beyond these frustrations, these two projects have at least had the merit of reinforcing a conviction: "The short circuit is as important in culture as it is in agriculture. In other words, it is only through its collective dimension (its ambition) that art (and contemporary music in particular) can be transformed into culture.
David Sanson
Photos © François Barbier and Pernelle Gaufillet Ventura
Photos © Jonathan Pontier
Photos © Eric Garault
Photos © New Nabab