With All Above, the new and third album of her Grand River project, composer Aimée Portioli explores the register of ambient music rich in textures, melodies and dramatic tensions. To be discovered on April 9 at the Rewire festival in The Hague, as well as in Barcelona, Gijon, London, Potsdam and Crato.
A growing number of artists compose today at the confluence of classical, electronic or minimalist practices, whether one thinks of the world of "modern classical", of film music, or of an "electro" scene that thrives away from the dance floor. From Nils Frahm to Hildur Guðnadóttir, from Hania Rani to the lesser-known Neil Cowley and Deaf Center, a whole generation of composers now demonstrate the same mastery of strings, piano, software and synthesizers, whether they express themselves in one or the other of these registers, or whether they naturally blend these formerly antagonistic types of instrumentations in their works.
The new and singular album of Grand River, which is in line with this dynamic, contrasts somewhat with the works of this new wave whose majority of albums are dominated by the piano. All Above (2023) is rather at the meeting point of many tributaries, among which the heritage of minimalism, ambient music, field recording, the electronic explorations of the German scene of the 1970s, the sound art of drone and noise or what is more commonly called today, electronica.
Since the beginnings of her project in 2017, and over the course of three albums released since 2018, composer Aimée Portioli has been composing with a rich instrumentarium within which piano, cello, organ, acoustic guitar, modular synthesizer, Buchla synthesizer, and sound processing software interact. And if the pieces of her new album are all built around her old upright piano, this one often disappears or dissolves behind the richness of its electronic timbres and sound textures.
" Quasicristallo", which opens this album of great mastery, is thus composed from insistent, and nevertheless unstable, notes of her favorite instrument, which are gradually loaded with breath, interferences and resonances, with the appearance of fog. "Human", which follows it, is built around looped choirs, the same clouds of electronic sounds as well as more obsessive synthesizer sequences. Further on, other tracks on the album such as "Kura" or "In The Present As The Future", in which fragments of voices and texts are sometimes read, seem to compose a series of sound environments whose wefts and melodies take on an aura of mystery and fiction, while suggesting a complex range of motives, situations or emotions, such as expectation, tension, wandering, quest, withdrawal or desolation.
Twenty-five years of learning
The difficulty in describing or classifying Aimée Portioli's music is precisely the interest of a composer who, by her own admission, has never sought to associate herself with a particular scene, or to situate herself within a defined aesthetic trend. Beyond an inspiration, the origin of which she struggles to describe, explaining that she favors experimentation, practice and intuition, her musical work testifies first of all to a long and rich learning process, which allows us to better understand the mastery and eclecticism that she demonstrates today.
Of Dutch and Italian nationality, she was born in 1985 in the Netherlands and grew up there until the age of twelve. From a very young age, Aimée was fascinated by toy instruments, which she accompanied in her singing, before joining a children's religious choir, which had some success through concerts, recordings and tours. Fascinated by the musicians who sometimes accompany the choir, she learns to play the classical and then the acoustic guitar with the help of private lessons (a constant in her life, as she seems to have always refused to attend conservatories). During her teenage years, she moved to a small Italian town in the Veneto region, wrote her own songs, participated in a handful of rock bands, while studying piano, singing and music theory. When she felt the need to record her own compositions, she started to learn about recording and the use of software in the late 1990s, before discovering electronic keyboards. Later, in Milan, she sings and composes for advertising, studies cello, trains as a sound engineer at Radio24 and then founds an agency and a studio for post-production and sound design. During the 2010's, she worked in the service of others, while developing her personal work in parallel, without however succeeding in committing herself full time to a career as a composer. For this, she had to leave Milan for Berlin in 2015, establish her studio there and publish three years later an already remarkable first album, Pineapple (2018). The record makes a large place for her mastery of synthesizers in a register close to the so-called cosmic music of the 1970s, while showing a greater concision, in terms of melodic writing, than her elders.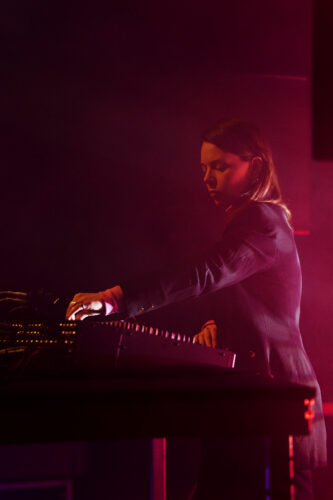 Blink A Few Times To Clear Your Eyes which succeeds her in 2020, published on the prestigious label Editions Mego, brings her a new notoriety and is in the same lineage, at the crossroads of the history of minimalism and the pioneers of electronics. However, this second album explores climates closer to ambient music, without falling into the trap of a genre whose aesthetic can flirt with clichés. Far from the idea of a music dedicated to relaxation, her most ambient pieces, loaded with tensions and emotions, never evade the violence, the roughness or the strangeness of the outside world. They intend to "negotiate with chaos" to use an expression of the author and composer David Toop about this musical genre which is sometimes lived as a refuge from the outside world.
All Above, with its title in the form of a spiritual questioning, is undoubtedly imbued with an additional emotion, compared to the artist's previous works. Dedicated to the composer and founder of the Mego label, Peter Rehberg, who died prematurely at the age of 53 in the summer of 2021, Aimée Portioli appears for the first time on the cover of one of her albums, her gaze turned towards the heavens and her face marked by an emotion staged in the manner of a theatrical or operatic character. It is up to the audience, she says, to interpret these images as they wish, and to let themselves be carried away by the complex emotions of these eight tracks composed in the secrecy of her Berlin studio.
Audiovisual concert and sound installation
During the spring and summer of 2023, the public will be able to discover or rediscover this album in a stage version, accompanied by the pianist Andert Tysma, in the form of a show set to light and image by the Berlin artist Marco Ciceri. Just as successful and ambitious as this last album, the piece "Tuning The Wind" (as yet unreleased) will be presented in the form of a live performance and a spatialized sound installation. Its title, which could be translated as "tuning the wind", takes the audience through a 30-minute work in which the wind plays the role of a full-fledged instrument and where breezes, gusts and squalls come to dialogue or mix with clever sound textures as well as with sequences and held notes of synthesizer. Naturally aerial in its form, "Tuning The Wind" is thus emblematic of a large part of Aimée Portioli's expressive, hybrid and singular work, close to ambient music, both immersive and sensory, while being crossed by tensions and emotions.
Jean-Yves Leloup
"All Above" live
* April 9 at the Rewire Festival in The Hague, Netherlands
* April 28 at the L.E.V. Festival, Gijon, Spain
* June 10 at the Waking Life Festival in Crato, Portugal
"Tuning The Wind" live
*April 7 at Mostra Barcelona Festival, Spain
* June 3 at Q3AmbientFest, Kesselhaus, Potsdam, Germany
Photo © Federico Boccardi
Photo © Tiberio Sorvillo
Photo © Krzysztof Karpinski
Photo © Tony Jageteg