She looks at you with her beautiful black eyes, and right away you're won over by her charm, her infectious joy, her sonorous laughter... and that's just for starters! If you listen to her playing the santûr, the Persian stringed table zither, you're finished! All you want to do is run to all the concerts where Farnaz Modarresifar improvises, plays the traditional Persian repertoire or composes her own music. So run, run... because this musician is everywhere this November!
Farnaz Modarresifar is taking part in Bartabas' new Cabaret de l'Exil show at the Théâtre Zingaro, this time devoted to Persian Women. This season, she is also composer-in-residence with theEnsemble Sillages and the Maison des Cultures du Monde with theEnsemble Zellig, after winning two composition academies: one with the Orchestre de Paris, the other with the ensemble l'Instant Donné and composer Georges Aperghis. The restitution of this workshop - the word "atelier" is more appropriate - will take place in public on November 26 at La Marbrerie in Montreuil.
Farnaz Modarresifar 's refined music is not reserved for concert hall audiences: last year, it traveled all over France and won over young ears, as the composer won the 24th Grand Prix Lycéen des Compositeurs, thanks to her Balades oniriques, imagined for France Musique programs.
The secret to her success? Her unfailing sincerity, her high artistic standards and, of course, her immense talent!
Farnaz Modarresifar grew up in Iran in a family of music lovers, who listened to both Persian and Western classical music, to which little Farnaz was immediately drawn: the piano was her favorite instrument. Farnaz's father happened to play the santûr as an amateur... the rest of the story is easy to guess! Farnaz Modarresifar likes to say that she chose music, but that it was the santûr that chose her: a magnificent zither equipped with numerous bridges and a myriad of strings, struck by fine sticks with soft cotton endings (the musician owns hundreds of these, which she fine-tunes daily to fit her hands).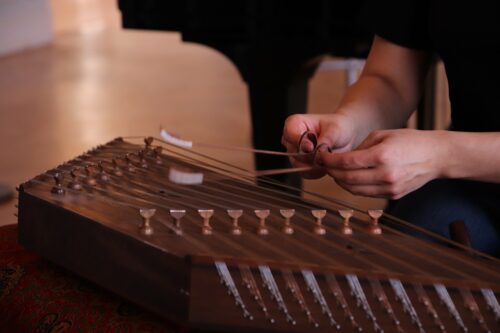 In Iran, she plays in both styles: classical and contemporary. In classical Persian music, which has been handed down orally, improvisation plays a major role, as the first scores only appeared half a century ago. In Iran, Farnaz Modarresifar created her own group and composed. Persian poetry has a very strong influence on her musical thinking, whatever the context, whether she is improvising on santûr or composing.
Farnaz Modarresifar's encounter with Western contemporary music came about thanks to the DAAD, during an academic trip to Germany offered to a few students from Teheran University. At the Cologne Philharmonic, she heard for the first time Atmosphères by György Ligeti. Fascinated by this discovery, she decided to break new ground in her already rich musical career. She began studying composition, first in Iran and then in Paris, where she arrived at the age of 22.
Now settled in France, Farnaz Modarresifar divides her time between composing and playing the santûr: to date, she is the only musician to explore contemporary music with this traditional instrument. Her research has enabled her to acquire a wide range of timbres, thanks to new playing techniques. 
To enter the world of this fascinating musician, there's plenty to do in the autumn in Paris! All you have to do is go to Aubervilliers, to the Théâtre Zingaro. There we find Farnaz in traditional Iranian costume, seated under the big top alongside three other Iranian musicians. She tells us about the process of working with Bartabas.
I met Bartabas through Maryam Karroubi, head of programming and distribution at the Maison des Cultures du Monde, who told him about me when Bartabas was looking for musicians for this new Cabaret de l'exil. He listened to my music, and I was then able to meet him and suggest other artists. We had a three-day residency at the Théâtre Zingaro to record several pieces from the Persian classical music repertoire, as well as improvisations. Bartabas then built his show around this material. He came back to us with a host of proposals, and for some scenes asked us to compose custom music.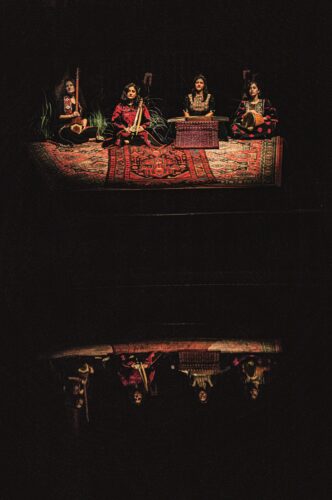 The theme of this Cabaret de l'Exil, Les Femmes Persanes, obviously resonates with the dramatic situation of women in Iran today. How do you feel about this artistic spotlight on a social issue shared by many women in your family or close friends who have remained in Iran?
The situation of women in Iran has always been a concern, and has always been at the heart of my life, because I was born after the revolution. For my generation, and even more so for my mother's generation, the problem has always existed! Every time I go back to Iran, I'm confronted with it. What's changed today is that women are no longer alone; some men support them.
For an Iranian woman, this creation by the Zingaro theater is inevitably accompanied by ambivalent feelings: the horses and riders are moving in water, water that symbolizes bloodshed, at least that's how I see it.
Iranian women dream of riding horses so freely under a big top, but they can't! Playing music and dancing on stage too! I can't help thinking about it.
As for us, the four Iranian musicians in this show, we're dressed in traditional costume and we play music from the classical Persian repertoire, set to the poetry of two contemporary poets: all this puts us in a very special paradoxical state. I've never experienced anything like it!
The singer Firoozeh Raeesdanaee, who sings alongside me and who has been my friend for over 17 years, since we were at the National Conservatory in Teheran, has never sung in public in Iran. Every time I hear her voice in the show, I get chills... I think of all the missed opportunities, all the things she wasn't able to experience on stage with us. It's a very strong feeling.
In all Zingaro shows, apart from the great poetry that immediately emerges, there's a very controlled aspect, because of the numbers that follow one another and are memorized by the horses. The musical moments correspond to the evolutions of the horses and equestrians, so everything is set "like clockwork"...
In fact, during our three-day residency at Zingaro, when we were recording the sound material for the show, the horses were trained on the recordings of our music for several hours a day. They had to familiarize themselves with our improvisations, so that in the end they knew this music and this language by heart, which was completely new to them. When rehearsals began in September, it took a long time for the horses to get used to our presence and that of the instruments. At first, so as not to confuse them, we played in the same tempo and on the same durations as what we had improvised during the preliminary phase - even if this was difficult to reproduce. Gradually, the horses gave us a little more freedom, and we were able to make things more flexible.
There's a kind of militancy on your part, or let's say a strong commitment, in bringing a musician from Teheran, Firoozeh Raeesdanaee, singer and kamantcheh player, for this show, which, while not militant - because that's undoubtedly not its objective - does have the merit of focusing attention on the dramatic situation of women in Iran?
Indeed, that's why I immediately agreed to take part in this Cabaret de l'Exil, without thinking about the possible consequences for me as a musician who regularly returns to Iran. What I admire about this show is that it allows me to share with the public the dramatic situation women have been facing in Iran for so many years, and which has worsened since last September. Thanks to Bartabas, 600 - 700 people come to the Théâtre Zingaro every evening, and when they leave the show, they try to understand things and find out more about the situation. Thanks to this, and also to the interviews Bartabas gives, we can learn more about the living conditions of women in Iran. I'm very grateful for that!
On November 9, Farnaz, you were at lunchtime at the Théâtre du Châtelet (Déjeuner-Concert) to attend the Orchestre de Paris premiere of your work "Les aiguilles de l'horloge sursautèrent", conducted by young conductor Anna Sulkowska-Migonand in the evening, you were off to play under the big top at the Zingaro theater... What a busy schedule! Can we talk about the poetic source of this piece, written for theAcademy Académie internationale des jeunes compositrices de l'orchestre, which took place over two years?
As part of the Academy, I first wrote a piece for 13 musicians, which was premiered under the direction of Lars Vogt. It so happened that in the first year of the academy, even before I met Lars Vogt, I saw a video broadcast by France Musique, an interview in which he announced his illness, the cancer that later took his life. I remember perfectly what he said, his cheerful tone, his laughing eyes, against all odds. At one point, he said these beautifully sincere words: "As I don't know what tomorrow will bring, every sunrise becomes a miracle". It really moved me, because I myself have had to deal with this serious illness several times in my family. The idea then came to me to base my first piece for 13 musicians on a poem by Forough Farrokhzad, which speaks of the need to live intensely in the present moment in a love relationship. This maxim can be extended to life as a whole, and interpreted more personally. So I borrowed the line "Les Aiguilles de l'horloge sursautèrent" from the poet, and based my first piece, directed by Lars Vogt, on this idea. After his death, when it came to writing for the orchestra (43 musicians this time), I naturally wanted to pay tribute to him by returning to the same text, especially as I knew - we'd discussed it together - that he'd been sensitive to the spirit of this poem.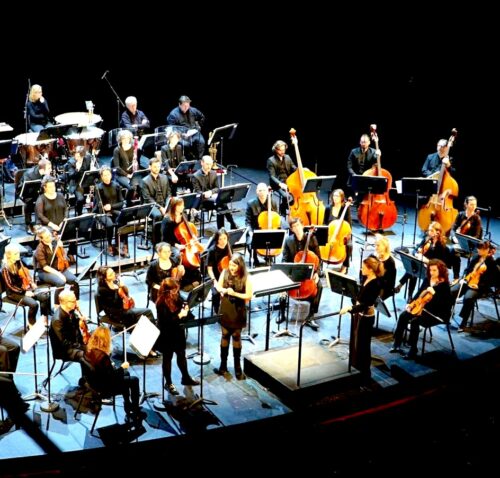 Farnaz, we talked about this at the time of recording Les Balades oniriques. Balades oniriques by France Musique, the spirit of these pages inspired by your dreams, and in particular your attraction to the theme of death. Is this fascination an integral part of Iranian sensibility, or is it personal to you?
I can say that it's always present with me, probably for personal or social reasons. But I believe that death is an underlying theme in Iranian literature and sensibility, and while one might consider that living with the thought of death is not entirely normal, I personally find that it makes life more beautiful. Because, in the end, this awareness of a possible end gives importance to everything we see and experience; it allows us to fully savour every moment of existence.
I understand you've really enjoyed working with the young Polish conductor Anna Sulkowska-Migon?
Indeed, she has a great knowledge of the classical repertoire and a real passion for creation. I was a bit apprehensive at first, because I didn't know her, and we only had half a rehearsal time (1h30), which isn't very comfortable for a premiere. In my score there are a lot of climaxes, a lot of free time, ad libitum parts that you really have to manage musically, to get the right dramaturgy for the piece. When the rehearsal began, she arrived with the score, and I could see that she had studied it very precisely. Everything went beautifully: what luck for me!
I understand she plans to continue working with you?
Yes, and I'm looking forward to it!
La Brèche Festival - Farnaz Modaressifar from 8 streaming on Vimeo.
Were you able to talk to the other three young female composers in the Orchestre de Paris Academy about the situation of female composers in France? Do you feel that women are still too much of a minority in the world of composition?
Certainly, and I must say I'm always surprised when I hear women composers or instrumentalists say that there's too much emphasis on parity, that we shouldn't distinguish between the sexes. Of course music should be about more than gender: I really respect that view! Of course what's important is the artist's personality, their story, their career! But if you look at the figures, at the percentages of commissions placed, you'll see that, despite all the talk, women composers are still very much in the minority: less than 8%. And that, I think, is unacceptable in a country like France, which has always been a pioneer, it seems to me, when it comes to feminism. Even here in France, gender equality is still a problem that needs to be tackled head-on !
Interview by Anne Montaron
Cabaret de l'Exil - Femmes persanes, Bartabas, Théâtre équestre ZIngaro at the Fort d'Aubervilliers, until December 31, 2023
Photos © Farid Modarresifar
Photos © Gary Gagosian
Photos © Festival Norouz - Fondation Calouste Gulbekian
Photos © Alfons Alt
Photos © Hugo Marty